Description
Now there are the perfect flange gaskets for all common Vespa cylinders!
Finally it has an end with leaking exhaust flanges due to inferior and simple flat gaskets made of Klingersil, Elring Abil N etc., which are not permanently temperature stable. These either burn through or become hard and break after a very short time.
Please do not use any sealing aids in conjunction with novamica®THERMEX gaskets! (see installation instructions). This also puts an end to the mess with Dirko sealing at the exhaust flange!
The material thickness of Frenzelit novamica®THERMEX is 2mm.
There are 3 different versions available:
small (Vespa cylinder ~130-140ccm displacement –>e.g. Polini 130, Polini Evo Direct, Malossi 136, Quattrini M1(L) GTR 56-60mm etc.)
medium (Vespa cylinder ~140-170ccm displacement –> e.g. FALC 57-60mm (case or direct inlet), Parmakit SP09 / W-Force / SixtySix, Quattrini M1ARR, M1L-60 RR etc.)
large (fits Quattrini M200)
Information about the sealing material:
Due to its absolute temperature resistance up to 1000°C, the material is perfectly suited as a flat gasket for combustion engines of all kinds.
In addition to excellent chemical properties, finished parts made of novamica® have very good electrical and thermal insulation properties. Furthermore, novamica® is not flammable due to its mineral composition and the low binder content, i.e. it is insensitive to open flames.
novamica® gaskets are at home wherever thermal insulation, sealing function and high temperatures meet in series production, e.g. in the following areas
in the exhaust system, turbocharger or EGR system
in condensing boiler systems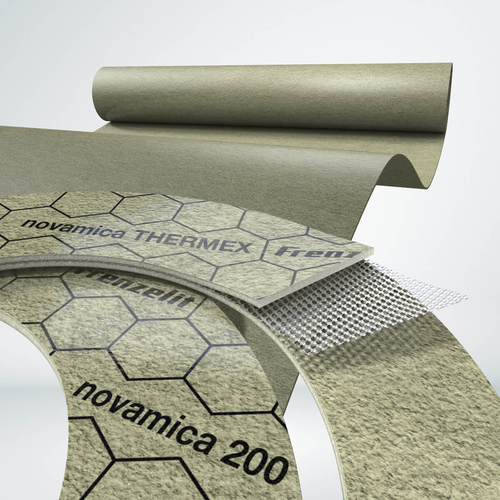 The sealing material consists of 2 layers of phlogopite mica and a reinforcement of stainless steel (1.4404 / AISI 316 L) expanded metal insert, which always guarantees the shape accuracy and strength.
[Frenzelit (2018). novamica® – Hochtemperaturdichtungen aus Phlogopit-Glimmer.Source , 08.08.2018]